When you see anything displayed on the shelves of a store, the first thing that catches your attention is the label on the product, so we find that the first step is the necessity of a good brand, and because the product packaging is the main part of the company's brand, therefore, there must be an effective sticker in the operations of Manufacturing and logistics to deliver this product to customers where these labels promote the brand of the product and indicate the product information that consumers need to know, so our article today will be about the best types of label labeling machines and we will explain what they are, their uses, and the role of label labeling machines in the industry, so follow us.. ..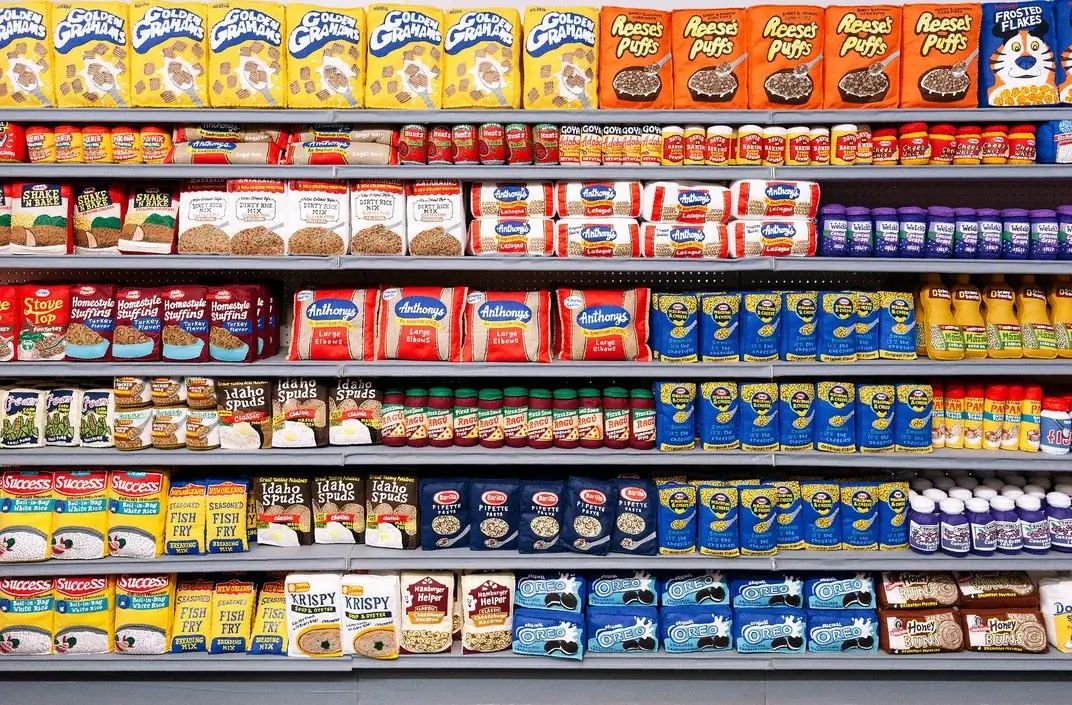 What are labeling machines?
Any label labeling machine refers to a type of machine used that distributes, applies or prints a sticker to put it on packages and stick it to commercial products when they are filled. They are used in industries such as food and beverage, pharmaceuticals, agriculture, home and office items, electronics, cosmetics and construction.
The main objective of the labeling machine is to increase the efficiency and speed of applying labels to products without increasing labor costs compared to manual labeling
Increased accuracy when compared to manual sticker
Label is placed on the entire surface of the product without wrinkles or air bubbles, i.e. cleanly and accurately, so that the product appears in the end in an elegant and attractive shape, which leads to an increase in demand for products.
The labeling machine is also used in a production line with other equipment such as automatic filling machines, capping units…etc.
The role of labeling machines in the industry
A good labeling machine makes the overall shape of the products attractive and clear. This is very useful in the industry because it uses new technologies and saves time and money.
Plays a central role in packaging lines and packaging systems as it can correctly identify products, and any label facilitates traceability and traceability of products in the supply chain
Sticking a sticker on the product is one of the most important steps of the packaging stage where the customer's perception of the quality of the product is directly related to the quality of the label on this product so the labeling tools must be accurate to show quality and also flexible to meet changing regulatory requirements
It saves time as it is characterized by the speed and accuracy of sticking stickers on products (whether cartons or bottles) up to 120,000 stickers per hour.
Able to ensure real-time connectivity, secure variable data management and agility in logistics operations
Label provides information about ingredients in the product, date of manufacture, expiration date, information such as quantity, list of features, etc.
Equipped with all the interfaces required for automation, when connected to the network or directly to a computer, the labeling machines are connected to the network or directly to the computer. They allow firmware download, fault diagnosis, remote control use, backup and setting of each parameter of the labeling machine, thus providing the interconnection of the factory computer systems with access to data Configuration, operation and remote programming.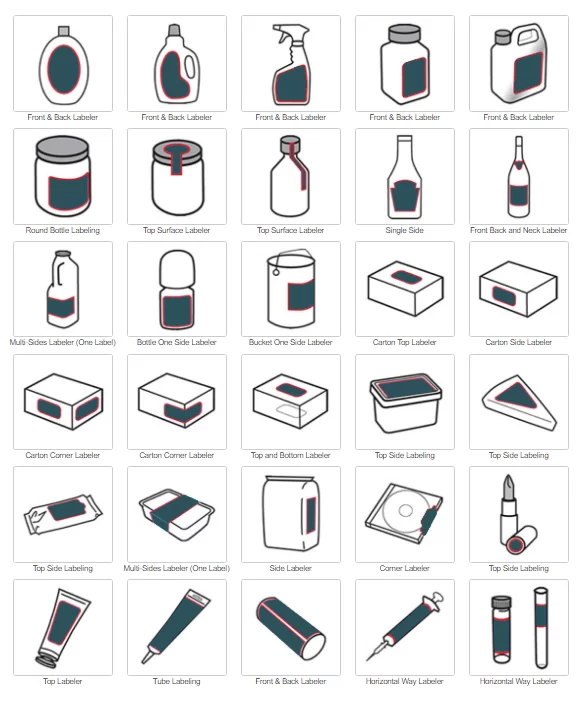 Front & Back Labeler,Round Bottle Labeling,Top Surface Labeler,Single Side,Front Back and Neck Labeler,Multi-Sides Labeler (One Label),Bottle One Side Labeler,Carton Top Labeler
,Top and Bottom Labeler,Top Side Labeling,Multi-Sides Labeler (One Label),Side Labeler,Corner Labeler,Top Side Labeling
,Top Labeler,Tube Labeling,Tube Labeling,Horizontal Way Labeler,Front & Back Labeler,Horizontal Way Labeler
The best types of labeling machines
Full automatic labeling machine
The sticker is automatically affixed by machines by attaching the label to each product and labeling while it is being transferred to the receiving party or the next device
Ideal for large production volumes and applications where label accuracy is essential.
Ideal if bottle diameters or product package dimensions change as it automatically adjusts accordingly.
Comes with a conveyor belt that moves and places the product to install the label
It is characterized by superior quality, regardless of the material from which the packaging of the product is made, whether it is aluminum, glass or plastic
It accommodates all different sizes, whether small-sized bottles or bottles, even containers in the same machine, where the speed of implementation depends on the length and size of the label.
The adjustable angle of the sticker heads is ideal for tapered products that conform to all shapes
It is used on Round Bottle and flat surface products
Applicable to flat or square packages or other containers with labeling on the front and back surface at the same time, widely used in chemical, cosmetic, petrochemical, pharmaceutical and other products with labels to be glued to the side.
It is suitable for labeling or self-adhesive film on the upper surface of various items, such as books, folders, boxes, cartons, etc. The replacement of the labeling mechanism is suitable for labeling on uneven surfaces, and is widely used for flat labeling of large products, Labeling of flat objects with a wide range of specifications.
Optional coding machine or inkjet printer to the labeling head can be realized on the label to print production date, batch number and printing bar code and other information.
Optional inkjet printer to conveyor belt can be used to print production date, batch number, barcode and other information on the product before or after labeling.
Scope of application
Applicable labels: self-adhesive labels, self-adhesive films, electronic supervision codes, barcodes, etc.
Applicable products: products that require labels or films to be attached to flat and large arc surfaces.
Application industry: widely used in printing, stationery, food, daily chemical, electronics, medicine, and other industries.
Application examples: book plane labeling, folder labeling, packaging box labeling, plate labeling, etc.
work process
Core working principle: The sensor detects the passing of the product and sends back a signal to the labeling control system. The label is sent to the set position of the product at an appropriate time, the product flows through the labeling device, and the label is firmly covered. The attaching action of a label is completed. Operation process: release product (can be connected to the assembly line) -> product delivery (automatic realization) -> product correction (automatic realization) -> product detection (automatic realization) -> labeling (automatic realization) -> labeling (automatic realization) —>Collect the labeled products.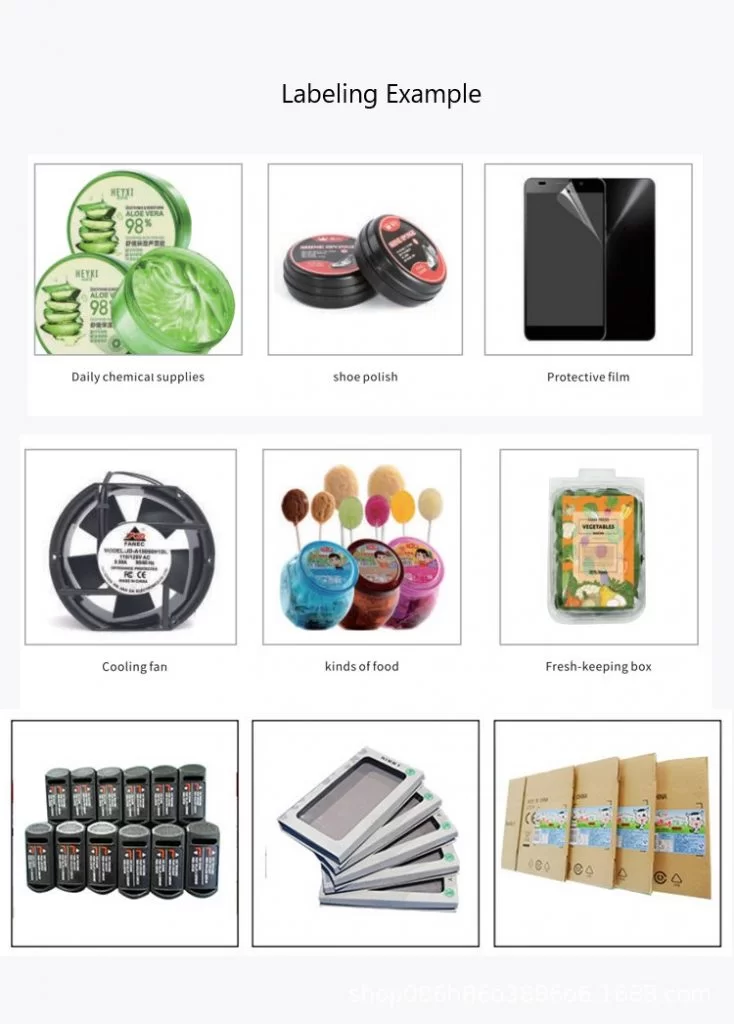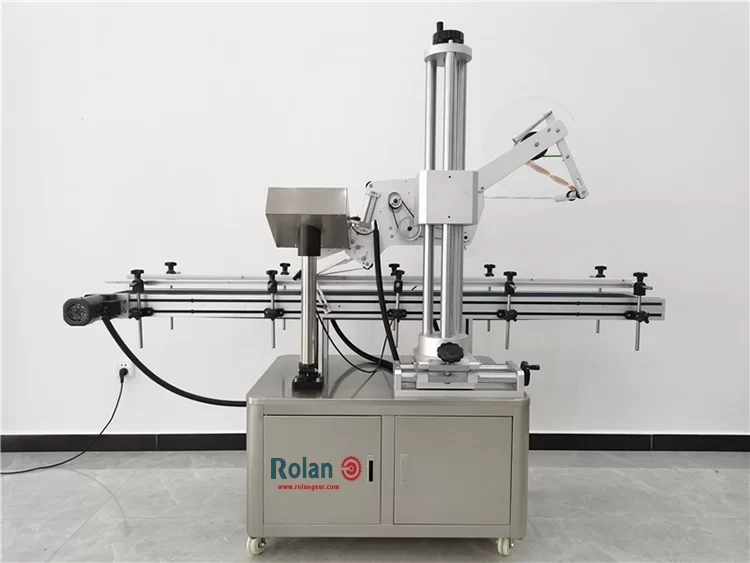 The labeling machine is made of high-grade stainless steel and high-grade aluminum alloy. The labeling machine head adopts high-speed servo motor to ensure the accuracy and speed of labeling. All photoelectric and control systems also adopt high-end products imported from Germany, Japan and Taiwan. PLC with man-machine interface control, the operation is simple and clear.
1. can it work for different flat surface of different products.
2. Automatic labeling, apply for pharmaceutical, food, cosmetic and other industries.
3. High accuracy of labeling, the acuities of label head to tail connect local just reached + / – 1mm.
4. The jockey for position type adjustment, different workpiece labels switching simple.
5. Adopt high-grade stainless steel and aluminum alloy, the mechanical stability is greatly improved.
6. Using high-speed servo motor to ensure the accuracy and speed of labeling.
7. Using advanced optoelectronic and control system, the label high detection sensitivity.
8. PLC with man-machine interface control, the operation is simple and clear.
Labeling speed
120-250b/m
(Adjustable speed, depending on bottle size and label length)
Labeling accuracy
+1mm(depends on products Characteristics, hardness and trueness of the circle)
Bottle diameter
25-120mm
Object range
Height: 20mm ~ ~ 300mm (Can be customized according to customer requirements)
Label specifications
Height:10mm~~150mm  Length: 15~~300mm
(Special specifications can be customized)
Roll diameter
Φ76mm Outer roll diameter: Φ300(max)
Power supply
AC220V 50/60HZ 980W
Weight
280KG
Package Size
2800*1400*1400mm
how its Work ? whach the video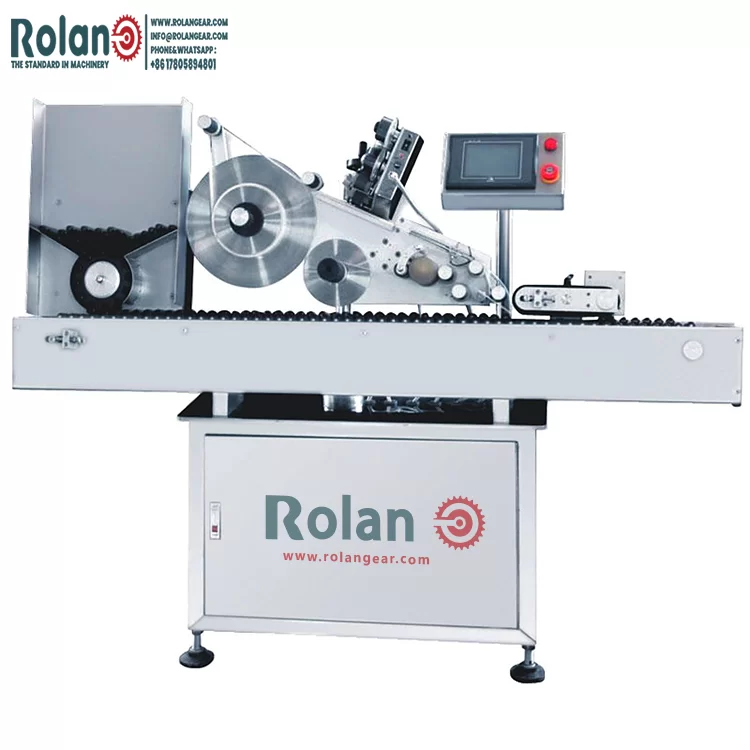 Suitable for circumferential or semi-circular labeling of various unstable cylindrical containers, Label labeling machines are widely used in cosmetics, food, medicine, daily chemicals, electronics, toys, hardware, plastics and other industries with small diameter round bottles with single label such as Ampoule bottles.
Work process:
1, the core working principle: the bottle separate the product, placed on the conveyor belt, the sensor detects the product through, return the signal to the labeling control system, in place of the control system to control the corresponding motor to send the label and attached to the product to be At the labeling position, the product flows through the label-beating device, the labeling band drives the product to rotate, the label is rolled, and the attachment of a label is completed.
2, the operation process: put the product (placed in the drop box) -> separate the product and spread to the middle of the conveyor chain roller -> product delivery -> product testing -> labeling -> labeling -> collection of labeled products
Features:
1, High speed, adopting the horizontal roller conveyor mechanism, the conveyor chain is inclined, the bottle is automatically guided, and the conveying labeling is stable. The labeling speed is up to 100 bottles/minute, saving a lot of manpower and material resources;
2, Low bottle breaking rate, application of flexible bottle separation technology and flexible over-cladding technology, smooth bottle labeling, and bottle breakage rate of less than one in 100,000;
3, Excellent labeling quality, the use of standard deviation around the correction technology, the label on the head and tail paste high degree of coincidence; roll roll over standard, labeling is flat, no wrinkles, no bubbles, improve the quality of packaging;
4, High stability, Panasonic PLC + Panasonic touch screen + Panasonic pin eyes + German labor easy to measure label electronic eye composed of advanced electronic control system, support equipment 7 × 24 hours high-speed operation;
5,Intelligent control, automatic photoelectric tracking, with no matter no labeling, no standard automatic correction and automatic label detection, to prevent leakage and label waste;
6, Solid health, mainly stainless steel and high-grade aluminum alloy, in line with GMP production specifications, a solid structure, beautiful and generous;
7. With fault alarm function, production counting function, power saving function, production number setting prompt function, parameter setting protection function, convenient for production management;
Easy to use and versatile it can paste up to 150 containers per minute Actually depends on the size of the label and container Also suitable for cylindrical containers Features barrel spacing design which is essential for container assembly in ideal positions You can use it effectively for sticking Different stickers on different surface materials, thus increasing production efficiency.
1. Adopt mature PLC control system technology, make the whole machine stable and high-speed
2. Adopt touch screen control system, make operation simple, practical and efficient
3. Advanced pneumatic code system technology, make the printed letter clear, fast and stable
4. Wide application, adapted to various sizes of round bottles
5. Roll extrusion bottle, so the labels attached more solid
6. Production line is for optional , also turntable is optional for collecting, sorting and packaging.
Electrical configuration
Number
Name
Brand
Quantity
Remarks
1
Stepper motor
Lead shine
2
 
2
Stepper motor driver
Lead shine
2
 
3
Conveying motor
OUBANG
1
 
4
Touch screen
Wecon, FLEXEM
1
 
5
PLC
VIGOR, Panasonic
1
 
6
Label sensor
Leuze, SICK
1
 
7
Object sensor
Panasonic
1
 
8
Breaker
delixi
1
 
9
Contactor
delixi
1
 
10
Changeover switch
delixi
1
 
11
Indicator light
delixi
1
 
12
Emergency stop switch
delixi
1
 
13
Switching power supply
MEAN WELL
2
 
Mechanical configuration
Number
Name
Texture of material
Quantity
Remarks
1
Electric box mechanism
Cold plate baking varnish
1 set
Available colors: Chinese red, white, 201 stainless steel
2
Conveying mechanism
Aluminum profile, aluminum alloy, chrome plated rod
1 set
 
3
Adjustment mechanism
Aluminum alloy, chrome plated rod
1 set
 
4
Material tray mechanism
Electric board, aluminum alloy
1 set
Baffle material available: Acrylic in various colors
5
Traction mechanism
Aluminum alloy, stainless steel, rubber coated
1 set
 
6
Paper receiving mechanism
Aluminum alloy, stainless steel, POM
1 set
 
7
Touch screen mechanism
Aluminum alloy, baking varnish
1 set
Available colors: Chinese red, white, 201 stainless steel
Optional configuration (function)
Number
Name
Material and Brand
Quantity
Remarks
1
Automatic feeding mechanism
 
1 set
Customized and selected according to products
2
Automatic material receiving mechanism
 
1 set
Customized and selected according to products
3
Code printer
 
1 set
Customized and selected according to products
4
Inkjet printer
 
1 set
Customized and selected according to products
5
Labeling detection
 
1 set
Customized and selected according to products
Semi-Automatic Labeling Machine
• There are steps involved in the labeling process that require initiating and assisting the operator that the operator manually removes the product from the platform after the machine has attached the labels.
• It can be used with bottles and containers with low pressure mechanical resistance such as plastic bottles.
• The semi-automatic labeling machine impressively accelerates the labeling capabilities making it an ideal investment in small industries
• Cost effective but may contain a slight degree of inaccuracy.
• Round bottle labeling machine suitable for labeling round bottles and other round objects.
• No need to change the parts to change the size of the containers and the appropriate stickers for glass, plastic, containers and bottle in the semi-automatic labeling machine.
• Semi-Automatic Labeling Machines include the latest microprocessor controlled stepper motor, advanced microprocessor controlled labeling system, optical fiber labeling system and container sensing system.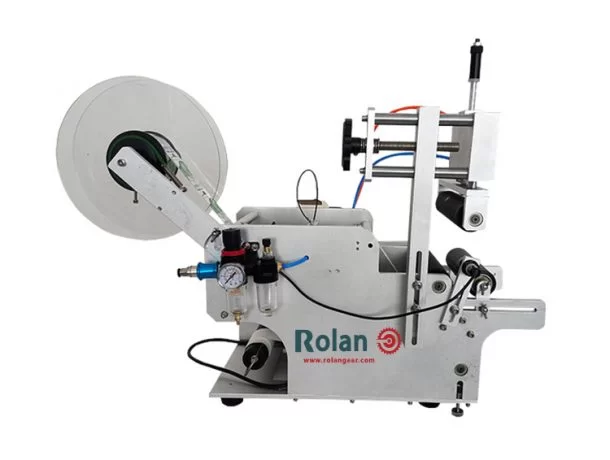 Suitable for all kinds of product specifications square, flat, curved and irregular on the surface labels, such as packaging boxes, flat cosmetic bottles and convex boxes.
It has a compact design and is designed for table use to accommodate different sizes of bottles and is operated with a foot pedal switch.
It can work with both opaque and printed labels
It uses pressure-sensitive, self-adhesive stickers, and can be manually fed or integrated into an existing production line.
Browse our selection of labeling machines and find the right equipment for your facility. If you would like to have more information about a fully automatic labeling machine in addition to suitable quotes, just contact us today. You can also learn about other machines such as packaging machines. as well as filling machines and sealing machines to complete your production lines.
To help you get the most out of your  after-sales service from your purchase of Label Sticker machines, we offer services to properly install, operate and maintain your machines for seamless integration with the rest of your machines by our highly trained engineers and maintenance staff.